Resources for Forum Attendees
Please review our DLF Code of Conduct prior to joining us at the Forum. On site, DLF staff will be identifiable by their name badges and white lanyards.
We encourage you to select or enter your pronouns to appear on your conference badge when you register and create your user account on our conference management system. This is an entirely optional field, and we welcome everyone to make a selection.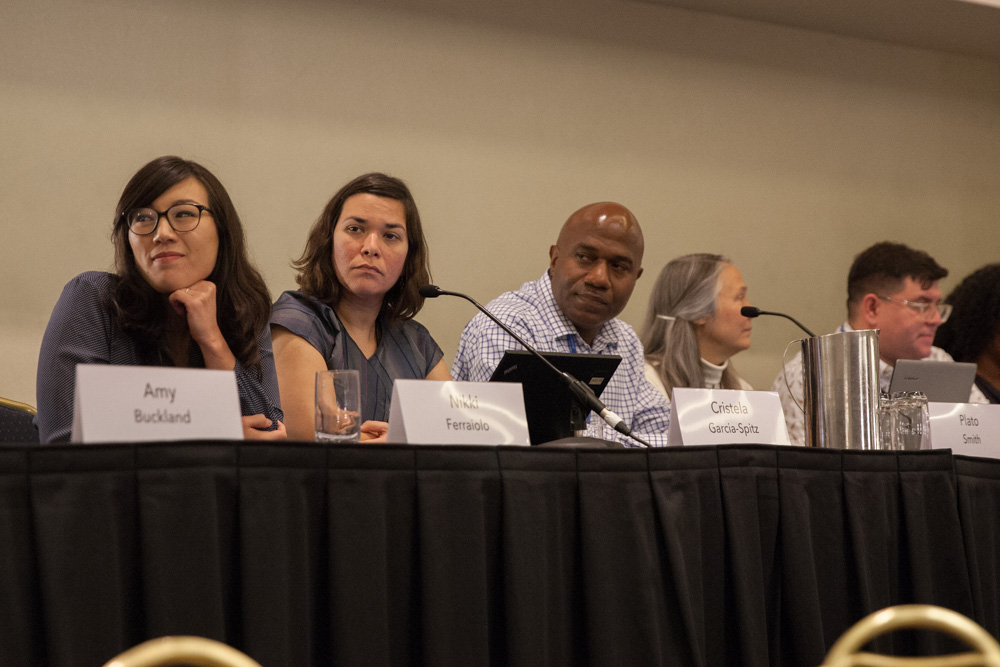 We hope our first-time attendees will feel empowered and comfortable when they attend our events. When you register, consider signing up for the DLF mentorship program. The DLF Community Committee will be planning social and newcomers' events – stay tuned for details on when and where that will take place.
A few other tips:
Most sessions at the Forum are open to anyone—Working Group meetings (aka DLF Working Sessions) include. Please feel free to join these whether you're interested in joining group activities or just learning more about them.
There's no strict dress code at the Forum, but attendees tend to gravitate towards business casual attire. See photos from previous years for a better idea. Additionally, meeting rooms can be chilly, so consider keeping a sweater or jacket on hand just in case.
Conference hashtags are a great way to keep up with what's happening across events! We use #LearnAtDLF, #DLFforum, and #DigiPres22, and every session has its own hashtag, which can be found before the title on the event schedule when it's released. Have a question for attendees or a problem that needs staff attention? Use #DLFvillage (because it takes one).
We are completely aware of how hard conferencing can be, and want you to have a good experience. Know it's ok to leave a session if it's not what you were expecting, or to miss one entirely because you're otherwise occupied or just need a break. There will be a designated Quiet Room onsite for anyone who wants to recharge or get some work done.
Every session has a shared notes doc if you want to catch up on something you missed (or contribute for others), and presenters will be encouraged to upload slides to DLF's OSF repository. Links to the shared notes and the repository will be available closer to the 2022 event.
Should an emergency or otherwise unexpected serious disruption occur, please phone emergency services at 911 immediately.

DLF staff (who will be clearly designated for the duration of the Forum with name badges and white lanyards) will be onsite to assist by contacting hotel/venue security or local law enforcement, providing escorts, or otherwise helping address the situation in the swiftest, most calm and organized way possible.
You can also reach DLF staff at our 24-hour emergency/Code of Conduct number at (732) 737-7328 (732-RESPECT).
Hospitals near the Renaissance Baltimore Harborplace Hotel
Mercy Medical Center (0.6 miles away) – 345 St. Paul Place, Baltimore. Phone: 410-332-9000
The Johns Hopkins Hospital (1.8 miles away) – 600 N. Wolfe Street, Baltimore. Phone: 410-955-2717
University of Maryland Medical Center (4 miles away) – 22 S. Greene Street, Baltimore. Phone: 410-328-8667
MedStar Union Memorial Hospital (3.4 miles away) – 201 E. University Parkway, Baltimore. Phone: 410-554-2000
Urgent care centers near the Renaissance Baltimore Harborplace Hotel
Please call or visit their websites to learn more about their limited hours.
Concentra Urgent Care (0.3 miles away) – 100 S. Charles Street, Suite 150, Baltimore. Phone: 410-752-3010
UM Urgent Care Downtown Campus (0.9 miles away) – 105 Penn Street, Baltimore. Phone: 410-328-1660
Patient First Primary and Urgent Care – Bayview (3.5 miles away) – 5100 Eastern Avenue, Baltimore. Phone: 410-814-4500
For Parents and Guardians
While we are still determining the details for 2022, we remain committed to offering quality, subsidized childcare services for our attendees. The details of our 2022 service will be available soon, but please feel free to contact us at forum@diglib.org with questions in the meantime.
Breastfeeding and Nursing Room
We will provide a nursing room on-site for those who prefer a quiet, private place to breastfeed their baby or pump. However, please feed your baby whenever and wherever you like. We strive to be a friendly environment for parents and babies.

Please ask for the key to the nursing room at the conference registration desk. This room is accessible to one family at a time and is located in a private hotel room away from the conference spaces. The room has comfortable spaces (bed, sofa, chairs), a full bathroom, and a refrigerator.

According to the hotel, milk storage can be accommodated in each sleeping room since the rooms are equipped with refrigerators. The front desk can coordinate any request for freezer storage as needed.
We will be providing a more detailed floor plan with information on spaces such as the quiet room, all-gender restroom, and the nursing room in the coming months. You can review in advance the Renaissance Baltimore Harborplace Hotel's meeting room details on the hotel website.
All meeting rooms have dimmable lighting.
Temperature in meeting rooms can be adjusted by asking the CLIR staff. Their goal it to keep all rooms at 72°.
Any meeting rooms with windows have both sheer and blackout curtains.
Restrooms on the 5th floor of the hotel nearest the conference meeting rooms will be designated all-gender and are wheelchair accessible. Restrooms near the elevators on the 5th floor will be single gender.
There are no family restrooms or single stall restrooms available on the 5th floor.
The restrooms on the 5th floor do not have baby changing stations.
A baby changing station is available in the women's restroom on the lobby floor.
Again in 2022 there will be a designated Quiet Room. The Quiet Room is intended to provide a quiet, calm space where conference attendees can spend time away from noise, lights, and other stimuli of conference spaces. The Quiet Room is not available for conversations or meetings. The Quiet Room will be located in James on the sixth floor of the hotel, one floor up from the meeting rooms. Restrooms near the Quiet Room will be single gender.
Smoking and Smoke-Free Areas
The hotel is entirely smoke-free, and smoking is only allowed about 10 feet away from the building in designated areas only. If you'd like to know more about fragrance at the conference hotel, see the section below, Fragrance at the Forum.
When you register, you will have the option to tell us whether or not you would like to be photographed. We ask our attendees to not photograph, video, or audio record anyone without their express permission. Attendees will have differentiated badge lanyards showing their preference for photography.

Black lanyards: Photographs are okay
Yellow lanyards: Please don't take my photograph
We ask that all presenters review our Creating Accessible Presentations webinar and submit their presentations in our conference repository. We recommend that presenters submit their presentations before or during the conference for attendees to access them. OSF links are organized by conference and are as follows:
Microphones will be used for all speakers during the opening and closing plenary sessions as well as the breakout sessions. Attendees with questions will be required to use a microphone so that their question is more easily heard both at the keynote and in breakout sessions.
Livestreaming and Recording
We will livestream the DLF Forum and NDSA's Digital Preservation 2022 plenaries as well as provide partial or full recordings. Please check our site for more information as it gets closer to October.
The venue is fully wheelchair-accessible. When you register, please let us know if there are any mobility assistance needs you may have during the Forum, and we'll be in contact to help address them as well as we can. If you have any questions, please email us at forum@diglib.org.
If you require an ADA compliant or accessible hotel room and plan to stay at the Renaissance Baltimore Harborplace Hotel, please let the hotel know directly during your room reservation process. This includes needs like an accessible restroom, a bathtub, room located close to elevators, a fragrance-free room, etc.
The main hotel entrance is the South Street entrance, which features a driveway for drop off and pick up. Bellhops are on duty 7 AM to 11 PM to assist guests. Doors at the South Street entrance are locked at 11 PM; guests should use their guest room key for access.
Please note, the hotel does not have an automatic door opener. During regular hours (7 AM – 11 PM), a bellhop is posted at the entrance to open doors. There is an intercom system for the South Street entrance for after hours (11 PM – 7 AM) that guests can use to get assistance opening the door.
The hotel also has an entrance from Pratt Street, which is unlocked during daylight hours only. Please note, this entrance is not fully accessible for those with mobility issues; entering the building here does require navigating down a few stairs to get to the elevators and lobby area.
You can self-park at the garage located directly next to the hotel. The garage is accessible from both the South Street and Calvert Street sides of the block.
If you choose to self-park, the hotel can add parking to your bill, or you can pay remotely. Premium Parking, which operates many of the garages and lots in Baltimore (including the one at the hotel), allows you to pay through their app or by using your phone. Downloading the app is not required, but smartphone access is. Parking instructions are signed throughout the garage.
If you wish to add parking to your hotel bill, be sure to have your license plate number handy when checking in.
All scent diffusers in public spaces at the Renaissance Baltimore Harborplace Hotel will be turned off for the duration of our events. Cleaning products used in hotel restrooms do not have a fragrance, but may have a cleaning product smell which may linger in the restrooms.
For the comfort and safety of those with chemical sensitivities, the DLF Forum is a fragrance-free event. Please refrain from wearing products such as perfumes/colognes, scented lotions, and clothing with strong detergent scents while attending. Thank you for your consideration for all members of our community.
More information on being fragrance-free can be found here:
Service animals are always permitted at the venue. Please indicate on your registration form if you anticipate bringing a service animal to the conference and we will follow up with more information.
Facilities for visitors with visual impairments
Meeting rooms and sleeping rooms are signposted in Braille.
All elevators have Braille buttons inside the cars.
Please note, Braille signage is limited in parts of the hotel. We have requested the hotel install Braille signage outside the elevators prior to our events.
Transportation - Getting to Baltimore
Baltimore is served by two airports:
Baltimore/Washington International Thurgood Marshall Airport (BWI) is about 10 miles and a 20 minute drive to the conference hotel. The hotel does not provide shuttle services to this airport.
The estimated taxi fee is $35 one way, if reserved in advance on Super Shuttle.
There are two public transportation options available from BWI to Baltimore City:
MTA MARC Train – The MTA provides shuttle service from the airport to the BWI Rail Station MARC stop. Get more information about fares here.
To view train schedule, set direction of your trip to Inbound > Penn; Departing from BWI Rail Station MARC Northbound, arriving to Penn Station MARC Northbound. Once you arrive at Penn Station, it's a 10-minute taxi ride; 33 minute walk; or roughly a 20-minute bus ride to the hotel.
MTA Light Raillink – Light Rail services is available to downtown Baltimore from BWI Marshall Airport. The BWI Marshall Airport Light Rail Station is located immediately outside the lower level of the terminal building, adjacent to Concourse E. Please note the fare and hours of operation on their information page.
Ronald Reagan Washington National Airport is about 45 miles and just over an hour drive to the conference hotel. The estimated taxi fee is $85 one way, if reserved in advance on Super Shuttle.
Accessible Transport LLC is a local company that provides wheelchair accessible transportation.
zTrip is another option for wheelchair accessible transportation.
Baltimore's public transportation options are fully accessible.
The front desk and bellhops are available to assist with procuring rides through rideshare services such as Lyft and Uber.
For more information on using Baltimore public transportation or getting around when you're in the city, see our Local Guide. See also: Hotel Accommodations.
Information about parking at the hotel can be found above.
We strive to meet all dietary requirements. The conference will provide lunches and breakfasts as well as hors d'oeuvres at the Monday reception. Dishes will be clearly labeled. Please let us know your dietary requirements when you register, and contact us at forum@diglib.org for more detailed information.
With registration to the DLF Forum, we will provide one complimentary beverage ticket (included in your welcome packet) to be redeemed at the Monday night opening reception. We will offer creative non-alcoholic mocktails, soft drinks, and alcoholic beverages.
Baltimore Crisis Response, Inc. – If you or someone you know is in crisis and needs immediate assistance, call their Crisis Hotline at 410-433-5175; 24 hours a day, 7 days a week. MD Relay Dial: 711.
DLF's 24-hour emergency/Code of Conduct number at (732) 737-7328 (732-RESPECT).
Is Something Missing From this List?
Please let us know if we have not included something you need, something that would improve your experience, or something that would make your attendance possible.