Local Guide: Baltimore, MD
CLIR Events Local Guide to Baltimore 2022
Thank you to the 2022 DLF Forum Community Committee for authoring this guide, and to the DLF Digital Accessibility Working Group for reviewing and testing for accessibility.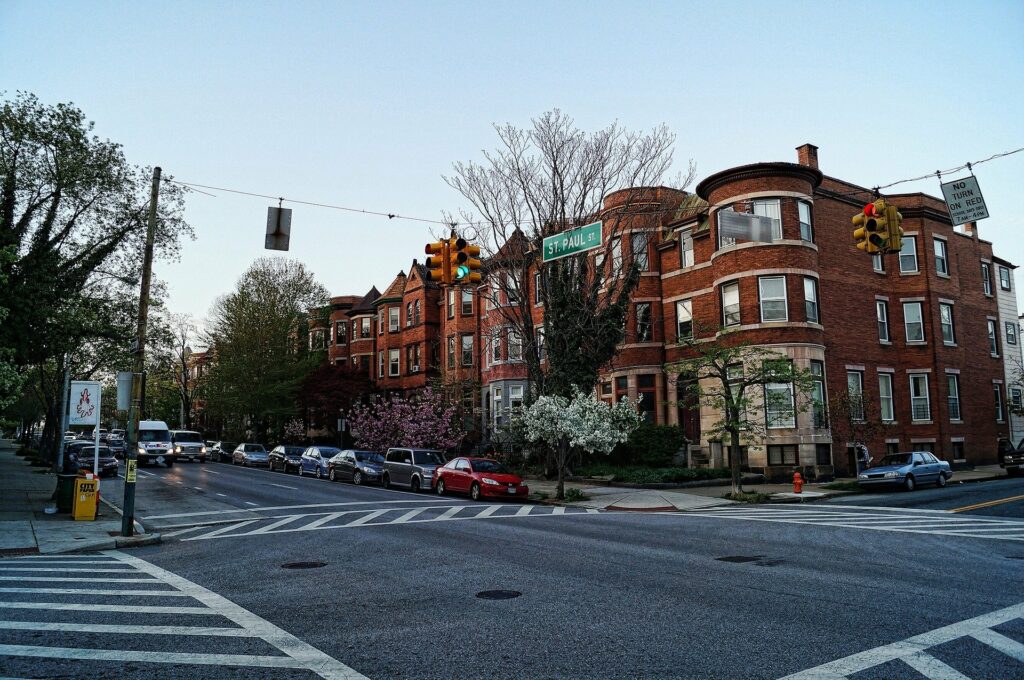 Prepare for your visit to Baltimore
Review the weather forecast:
October weather is kind of a crapshoot – it could be really hot or really cold! We suggest checking a few days before you leave to decide what to pack. So far the prediction is some crisp, fall weather in the low 50s to mid 60s. Could rain, but not likely (averaging 4 inches for the month).
Discover some Baltimore-focused resources:


Listen to Baltimore podcasts:

Listen to the DLF community-made Baltimore-themed Spotify playlist:
How to get to the hotel and get around
Getting to the hotel: If you are flying into BWI, we recommend taking the Light Raillink to the Pratt Street (Convention Center) stop, and then follow Pratt east for a half mile to the hotel at 202 E Pratt Street.
Parking: Parking is available at the hotel for $32-$35 per day to self-park. Valet parking at a higher rate is also available. There are several parking garages within a couple of blocks that run from around $25-$35 per day. Parking around town is often street parking. It's often difficult on the weekends to find parking in the Fell's Point and Federal Hill neighborhoods, but in most other neighborhoods it's fine.
Getting Around: Baltimore is a city of neighborhoods and is pretty car-centric. That being said, there are public transportation options by land and water. The Charm City Circulator and the Harbor Connector Ferry are free!
The Light Rail Link on Pratt Street is a great option for traveling along the north-south corridor of the city with stops in Mount Vernon, Hampden, Woodberry, and Camden Yards.
Accessibility: In general, the Inner Harbor area near the hotel is wheelchair accessible, though sidewalks may be hit-or-miss. Businesses in old rowhomes in neighborhoods such as Fell's Point, Federal Hill, and Hampden may not be wheelchair accessible. We recommend exploring Baltimore through this wheelchair accessible travel guide. Accessibility tags throughout this guide are based on Yelp reviews. Menu accessibility is based on testing with a screen reader.
Within .5 miles of the hotel
Local fast food nearby hotel
Farther out but awesome
Ice Cream
Within .5 miles of the hotel
La Calle: (0.2 miles) "Modern" Mexican. Lunch and dinner. Menu not accessible.
Pitamore: (0.2 miles) Mediterranean; amazing Shawarma and falafel: good for lunch and early dinner (closes at 6pm); Yelp: $; also has options and labels for gluten-free, vegan, and vegetarian. Menu partially accessible.
Miss Shirley's Cafe: (0.3 miles) Maryland Southern food focused on using local ingredients. Breakfast, brunch, and lunch; Yelp $$; can have very long wait times, especially on the weekends. Menu accessible. Wheelchair accessible.
Blackwall Hitch: (0.3 miles) Great happy hour. Open for lunch and dinner. Menu accessible.
Ramen Utsuke: (0.4 miles) Ramen and Sushi. Vegan and vegetarian options. Wheelchair accessible. Menu not accessible.
Liora: (0.4 miles) Plant-based and locally sourced fine dining. Wheelchair accessible. Gender-neutral bathrooms. Menu somewhat accessible on mobile.
Local fast food nearby hotel
Farther out but awesome
Ice Cream
Coffee
Tea
Breweries
Bars
Coffee
Most of the best local coffee places are not near the hotel, but there is a Starbucks inside the hotel.
3 Bean Coffee: (0.6 miles) Serves Vagrant coffee. Grab a to-go cup and see the views from nearby Federal Hill Park. Gender-neutral bathrooms. Wheelchair accessible. No online menu.
Ceremony Coffee: (0.9 miles at the Cross Street Market) Menu not accessible. Grab a breakfast sammy at Steve's lunch stall while you're there, a staple of SoBo for the past 50 years, or a cold press juice or smoothie at Gangster Vegan Organics.
Dooby's: (1 mile away) Check out this Korean-inspired cafe in the Mount Vernon neighborhood for breakfast and Passenger coffee. Asian-owned. Gender-neutral restrooms. Wheel-chair accessible. Menu accessible.
Sophomore Coffee (2.2 miles away) Small gem of a coffee shop with great espresso. Woman and Black owned. Menu not accessible.
Café Los Sueños: (2.8 miles) Cozy coffee shop in the Remington neighborhood. The owner grew up working in the coffee fields of El Salvador and roasts their own beans. No online menu.
Dovecote Cafe: (3.0 miles) Gorgeous community-centric cafe in the Reservoir Hill neighborhood with a creative menu and events. Black-owned and women-owned. Gender-neutral bathrooms. Wheelchair accessible. No online menu.
Good Neighbor: (4 miles) In Hampden. Great coffee drinks, sandwiches and pastries, along with a curated selection of home goods and kitchen/bar staples. Amazing and large outdoor space and seating, including Green Neighbor, their plant shop. Gender-neutral restrooms. No online menu.
Artifact Coffee: (4 miles) Rustic coffeehouse in a reclaimed factory building serving locally sourced and seasonal light bites. Located in the Hampden/Woodberry neighborhood near Waverly Brewing, Accessible from Light Raillink Woodberry Stop. Gender-neutral bathrooms. Wheelchair accessible. Menu not accessible.
Tea
Breweries
Bars
Since you're at the Inner Harbor, visit the National Aquarium (wheelchair accessible), Turtle Island, and local celebrity Mr. Trash Wheel at his home 0.6 miles away. This googly eyed genius keeps our bay clean and encourages recycling. Tag him on social media (seriously his Instagram is one of the best). He is related to Professor Trash Wheel, Captain Trash Wheel, and Gwynnda the Good Wheel of the West, but he was the first. He has also partnered with local brewery Peabody Heights on 3 beers, Solar Power Sour, Lost Python Ale (from that time when a python came to visit with the trash), and Professor Trash Wheel Blinded Me With Science.
See the Reginald F. Lewis Museum of African American History (0.4 miles) and The National Great Blacks in Wax Museum (2.5 miles)
See Edgar Allen Poe's grave (0.9 miles) at 515 W Fayette St, a 17-minute walk; open during the day, and then go see his house and museum (1.5 miles). The house is not wheel-chair accessible but the museum is.
Jewish Museum of Maryland: (0.7 miles) near Attman's Deli and includes historic Lloyd Street Synagogue. Get corned beef on Corned Beef Row at Attman's Deli for lunch.
See outsider art at the American Visionary Art Museum (1.2 miles) and some amazing letter presses at the Baltimore Museum of Industry, located in a former oyster cannery (1.5 miles). Grab some seafood at nearby LP Steamers and a beer at Diamondback brewery. Both wheelchair accessible.
For fine and contemporary art, visit the Walters (0.9 miles) and the Baltimore Museum of Art (3.0 miles), both free and conveniently located along the Light Rail. Both wheelchair accessible. For local galleries, Galerie Myrtis (2.1 miles) is Black, woman-owned blue-chip gallery specializing in twentieth and twenty-first-century American art with a focus on work created by African American artists.
For a bibliophile tour, visit the Enoch Pratt Free Library (0.8 miles), the recently renovated central branch, as well as the George Peabody Library (0.9 miles). Known as Baltimore's "Cathedral of Books," Peabody is consistently ranked among the most beautiful libraries in the world. If it happens to be the one day of the month that Book Thing (2.9 miles) is open, trek up to Charles Village to pick up some free collaging gems. All wheelchair accessible. Nearby is worker-owned Red Emma's Bookstore Coffeehouse and Normals Books & Records.
Stroll along the Promenade – the brick route along the Baltimore Harbor. Head toward Federal Hill (to the right when you're facing the water and the hotel is at your back) or Fells Point and Canton (to the left). There's a pleasant path along the water for several miles in each direction from the hotel. Most parts of the Promenade are wheelchair, bike, and stroller accessible. Learn more about the Promenade and view maps on the Baltimore City website.
Go on a Saturday morning to the Waverly Farmer's Market or on a Sunday morning to the Baltimore Farmers Market under I-83. See the Hollywood Diner from the Barry Levinson movies "Diner" and "Tin Men" (0.5 miles) at Holliday and Saratoga Sts.: not a restaurant anymore. See it in the 1980s as the Kids Diner.
See a performance at Le Mondo (0.9 miles), an artist-owned bar and event venue with avant-garde concerts, dance, and theatrical performances.
Follow in the footsteps of Frederick Douglass around Fells Point. Do a Fells Point ghost tour (1.2 miles) and get some mussels and live music at Bertha's across the street. Pick up the water taxi at the Fell's Point pier for a cruise around the harbor (make sure to check out their hours since it's off season).
Do some Duckpin bowling at Patterson Bowling Center: (1.4 miles) and BYOB (Pro tip: bring a 6-pack of local brewery Union's Duckpin Pale Ale or a pizza from Johnny Rad's across the street)! Duckpin is like regular bowling, only smaller pins and balls, and slightly different rules–so actually, it's pretty different. Afterwards visit Patterson Park and then go see some local art at Creative Alliance and shop at Hecho En Baltimore (2.3 miles) for paletas and products made by local artisans.
Shake and Bake Family Fun Center: (2.2 miles) Baltimore City Recreation and Parks (BCRP) owns and operates the Shake & Bake Family Fun Center in the historic Upton community in West Baltimore. "The Bake" as it is affectionately known, has been a local, iconic staple since 1982. Named after Baltimore Colts wide receiver, Glenn "Shake & Bake" Doughty. Shake & Bake is the spot for Bowling and Roller Skating under one roof in the heart of Baltimore City! This link leads to a short video on PBS about Shake & Bake.
See a show at Ottobar (2.6 miles) and stop by Beyond Video while you're in the neighborhood, nonprofit video rental store in a row home.
Peruse The Avenue in Hampden (3.7 miles), which is technically named W. 36th Street. Also Hampden is pronounced HAM-din. Tons of great shops (including vintage), restaurants, and bars as well as Atomic Books, an independent bookstore where John Waters gets his fan mail. Pro-tip: watch John Waters' PECKER (1998) beforehand which takes place almost entirely in Hampden.
Lithuanian Hall: (1.2 miles) Save Your Soul is a monthly dance party featuring the best Dj's spinning the rarest and rawest Soul, RnB, and Boogaloo 45's on the first Friday of every month at the historic Lithuanian Hall in Baltimore. Try a shot of the traditional honey liqueur, Krupnikas
There are a plethora of hiking trails in and around the Baltimore area for all levels. Local favorites include the Cascade Falls Trail in Patapsco Valley State Park (21 minutes by car), the Merryman's Mill Trail at the Loch Raven Reservoir (27 mins by car), and the Leakin Park Loop Trail up to the Orianda Mansion (21 minutes by car).
Baltimore has a number of lovely parks. Local favorites include Federal Hill Park (1 mile), Patterson Park (2.3 miles), Druid Hill (4 miles) and Clifton Park (3.1 miles).